Bihar Police SI Syllabus 2023: The Bihar Police Committee issues notifications for the recruitment of Sub Inspectors (SI) on a yearly basis. To guarantee a successful application, prospective candidates must be familiar with the complete exam structure and material. The Bihar Police SI selection procedure consists of four stages: preliminary exam, main written exam, physical eligibility test, and medical examination.
Bihar Police SI: Highlights
Organization Name: Bihar Police
Post Name: Sub Inspector
Job Location: Bihar
Selection Process:
Preliminary Exam
Main Exam
Physical Test
Medical Test
Document verification
Apply Form: Bihar Police SI Recruitment 2023 Notification, Online Form
Bihar Police SI Syllabus 2023: Subject Wise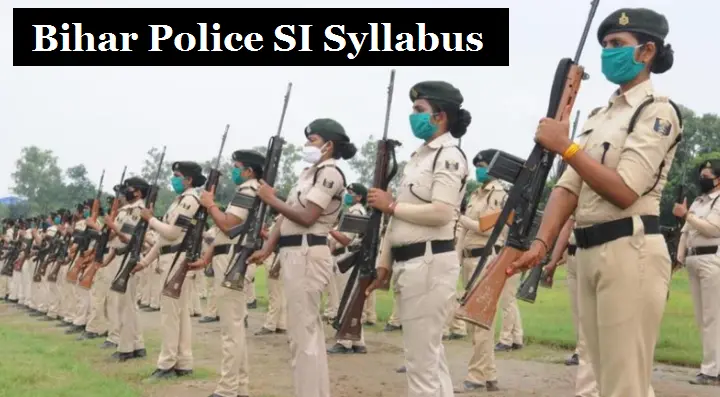 General Hindi
Unseen Passage
Filling the Blanks
Hindi Grammar
Mathematics and Reasoning
Sets, Relations and Functions
Mathematical reasoning, Boolean Algebra
Sequence and Series, Composite Numbers
Quadratic Equations, Permutations and Combinations
Mathematical Arrival Theory and more.
Civics
Constitution Of India, Democracy
Judiciary, Parliamentary Government
Local Government, State Government
History of India
Kings and their Kingdoms, Mughal Times in India
Empires in India, Social Changes
Power of Companies, Tribal Societies
Women and Reform, India after Independence
Geography of India
Air
Water
Lands
Human Resources
Agriculture
English
Translation from mother tongue to English
Communication Skills, Reading Essay
Reading Tales, Stories
Comprehension of Unseen passages, Grammar
Contemporary Issues
Political Science
Concepts of politics, States
Theories of Origin of the State
Sovereignty, Key Concepts
Powers of Union Executives, Parliament
Indian Judiciary, Electoral Systems of India
Physics Concepts
Introduction of Physics, Work, energy, and Power
Motion of particles, Properties of Bulk Matter
Theory of gases, Electrostatics
Optics, Atoms and Nuclei, Electronic Devices
Economics
Introduction of Economics, Collection, Organisation, and Presentation of Data
Economic Reforms, Development of Bihar
Microeconomics, Macro Economics
Money and Banking, Budget of the Government
You May Also Like:-
ESIC Paramedical Staff 2023 Syllabus & Exam Pattern Download PDF

UPSSSC Forest Guard Recruitment : Syllabus and Exam Pattern
Physical Eligibility Test and Medical Examination
Candidates must pass a Physical Eligibility Test (PET) and a Medical Examination after passing the preliminary and main writing exams. These stages are critical because they establish the candidates' physical fitness and health status, ensuring they are fit for the rigorous work of a Sub Inspector in the Bihar Police.
Physical Eligibility Test (PET)
The PET assesses the physical capabilities of the candidates. It includes various tasks like:
Running: Candidates have to complete a certain distance within a specified time.
High Jump and Long Jump: Evaluates the jumping capabilities of the candidates.
Shot Put: Candidates need to throw a heavy spherical object to a certain distance.
Height and Chest Measurement: Ensures candidates meet the minimum height and chest expansion requirements.
Medical Examination
This examination ensures that the candidates are medically fit. It includes:
Eye Test: Ensures candidates have a clear vision without any major eye-related issues.
Hearing Test: Checks the hearing capabilities of the candidates.
General Health Check Up: Evaluates the overall health status, ensuring no major illnesses or health issues.
The Bihar Police SI position is highly regarded, and many candidates wish to obtain it. It's a challenging exam that takes hard work, devotion, and a genuine desire to serve the country. Candidates are advised to prepare past years' papers in order to improve their chances of scoring well in the next Bihar Police SI Syllabus & Test.