Hello friends! If you intend to take the Maharashtra PWD Junior Engineer Assistant test, this post is for you. We have compiled all of the pertinent information regarding the syllabus and exam format.
The Maharashtra Public Works Department (PWD) has announced the Junior Engineer Exam. You must pass a written exam to be considered for this position. However, before you begin studying, you should be aware of the topics that must be covered.
Maharashtra PWD Junior Engineer Assistant Exam Pattern
The exam is for 200 marks.
There are 100 marks for Junior engineering and 100 marks for general subjects.
Maharashtra PWD Junior Engineer Assistant Syllabus Details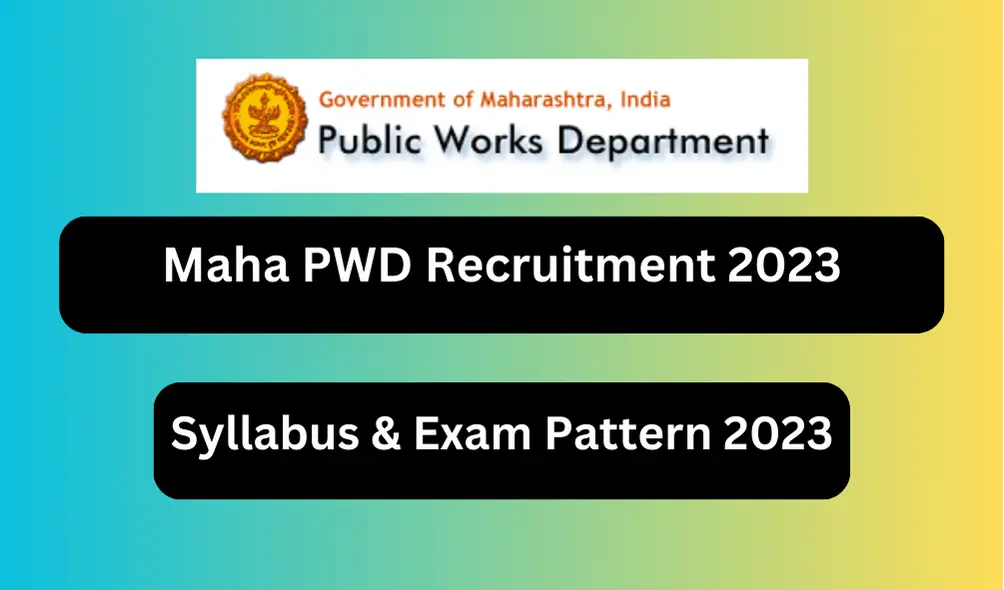 A. Reasoning
Topics: Alphabet Series, Number Ranking, Clocks & Calendars, Blood Relations, Decision Making, Number Series, and more.
B. English Language
Topics: Sentence Completion, Idioms and Phrases, Error Correction, Antonyms, Synonyms, Spotting Errors, and more.
C. Aptitude
Topics: Boats and Streams, Simple Interest, Races and Games, Average, Time and Work, Ratio and Proportion, Compound Interest, and more.
D. General Knowledge
Topics: Rivers, Geography, Indian History, Sports, Current Affairs, Indian Parliament, Famous Places in India, Indian Politics, and more.
E. Civil Engineering
Topics: Estimation, Construction, Concrete Technology, Soil Mechanics, Surveying, Water Resources Engineering, Environmental Engineering, and more.
F. Marathi
Topics: Sentence Rearrangement, Vocabulary, Grammar, Error Correction, Synonyms, Fill in the Blanks, and more.
Exam Structure
Marathi / English / General Knowledge / Intellectual Test: 25 Questions, 50 Marks
Based on technical curriculum: 75 Questions, 150 Marks
Total: 100 Questions, 200 Marks
Tips for Preparation
Understand the Syllabus: First, know what you have to study.
Make a Study Plan: Give time to each subject.
Practice Old Papers: This will help you know the exam better.
Revision: Don't forget to revise what you study.
Stay Healthy: Eat good food and take rest.